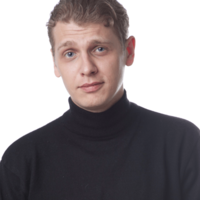 Stavropol, Russia
In 2005, Alexey graduated from the North Caucasus State Technical University with a degree in information systems and technologies. He worked as a front-end developer and programmer, and at the same time practiced graphic and web design. He also contributed to a number of electronic mapping projects.
In 2012, Alexey became a full-time designer, specializing in web design and 2D graphics.
As a developer and designer, he worked with the brands like Volkswagen, PepsiCo, and Radio-7.
Alexey is a proud owner of a cat. In his spare time, he strives to learn how to play the guitar and draw.